Sires »
Meet Mack
Black Tri, Olde English Bulldog Male
Mack | Black Tri Male
Mack is out of Heavy Hitters Laffy Taffy and by Lor's Top Gun of Heavy Hitters born 2011 IOEBA. The maternal grand sire is Carrera's Blue Demon and the grand dame is the infamous Heavy Hitters Stella. Mack's sire (Maverick) is straight Gargoyle breeding. Maverick aka Top Gun is a chocolate tri with fantastic confirmation and substance. Our Mack produces beautiful black, blue, Lilac and chocolate tri pups. He is a carrier for the blue and chocolate gene.Mack has a laid back personality and loves EVERYONE. His loving temperament and fabulous confirmation has been passed on to new generations of Oldie pups at Olde South. Color genotype is kyky,atat,Dd,Bb ; black tri phenotype "blue" dilution gene carrier and chocolate carrier. Mack is 70 lbs and 17 inches.
Foundational IOEBA Registration.
The Olde South Difference
We raise every one of our bulldogges with unmatched care and consideration. We are experts in pedigree evaluation, best breeding practices, OEB color genetics and hereditary, care, nutrition, and training. Our kennel facility is state-of-the-art, with automatic watering and feeding systems, insulated igloo shelters, separate puppy kennel, and three acres of doggie play park on premises.
When you buy one of our puppies, you have the confidence of:
Life time consultation and support
Puppies raised with the best veterinary care available
Certificate of health and current shots
Five generation pedigree from International Olde English Bulldogge Association (IOEBA)
Nutrition programs designed and maintained by animal nutritionists
Puppies well-socialized with other dogs and children
Puppies By This Sire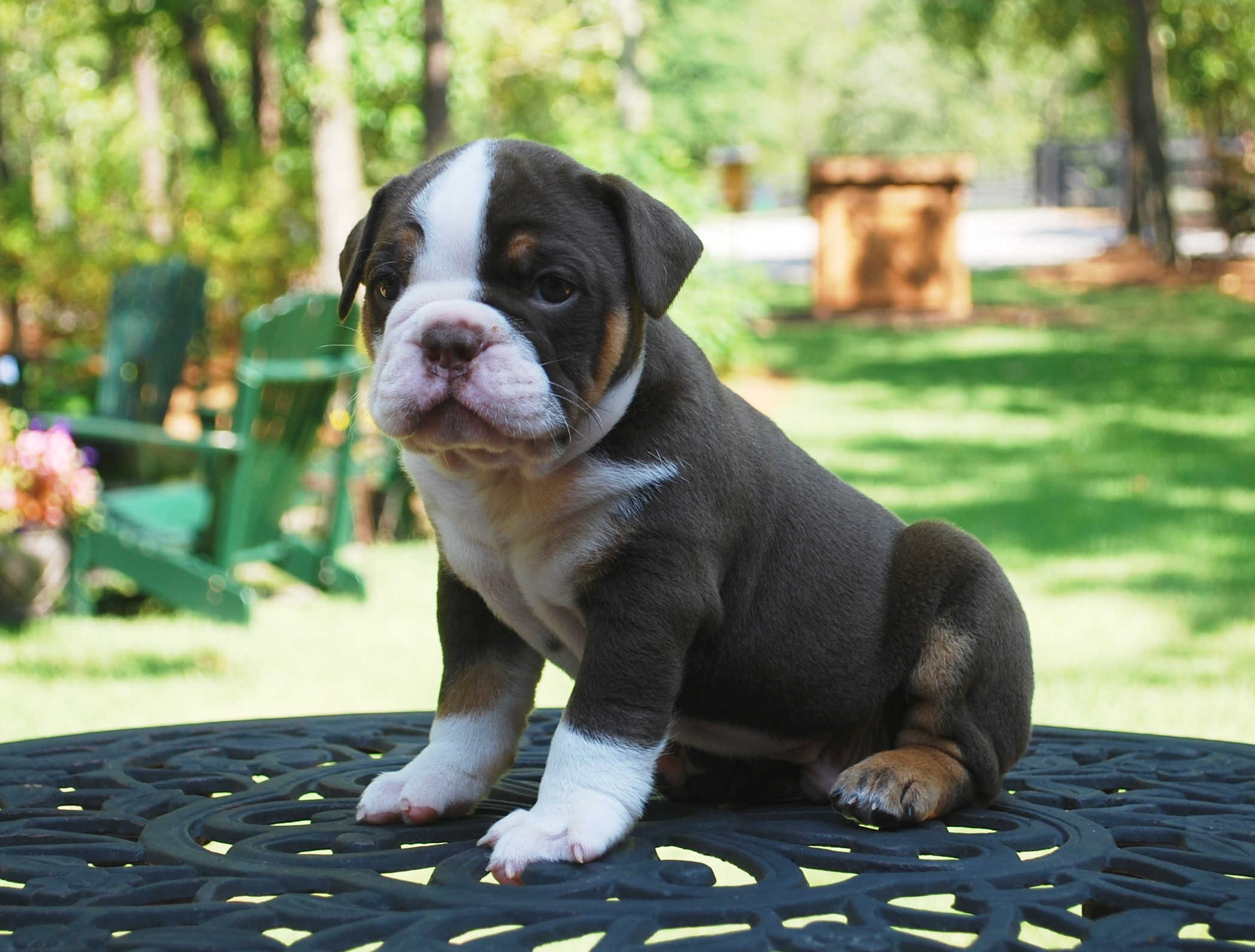 Dark Chocolate Tri | Male Born: